Introduction
A job offer means a lot to people with disabilities. With employment opportunities by conscientious enterprises, resource support from government, and linkage between social welfare organisations, the society can take a daring step forward and offer more opportunities for people with disabilities.
"E- Connect" adheres to the spirit of "sharing" which benefits the disabled, corporates and the society at the same time:
---
Sharing Talent
Nowadays, all kinds of corporates are equipped with different working environment. In the past, the employers might find it diffcult to recruit suitable employees even with determination of hiring people with disabilities. A total of 6 local social welfare organisations joined hands to form "E-Connect" Employment Network. Corporates and people with disabilities can be matched by a simple call made by social welfare organization(s) quick job matching for the corporates and people with disabilities. Frequent post-employment support services will also be provided to minimise any difficulties encountered by conscientious enterprises when hiring disabled employees.
Sharing Opportunities
It is always challenging for people with visual and/or hearing impairment(s), long-term illness, ex-mentally illness and physical disables to be employed to find work. With joint effort of 6 local social welfare organisations, "E-Connect" Employment Network strives to look for conscientious business partners and process job matching for disabled members and therefore enhancing employability. In addition, members with disabilities can enroll various courses offered by 6 social welfare organisations under "E-Connect" Scheme for more training opportunities.
Sharing Resources
Due to limited resources, individual organisations encounter difficulties in organising diversified training or recruitment activities throughout the year. However, resources that are available under "E-Connect" Employment Network has created more opportunities to help people with disabilities taking a further step to success.
---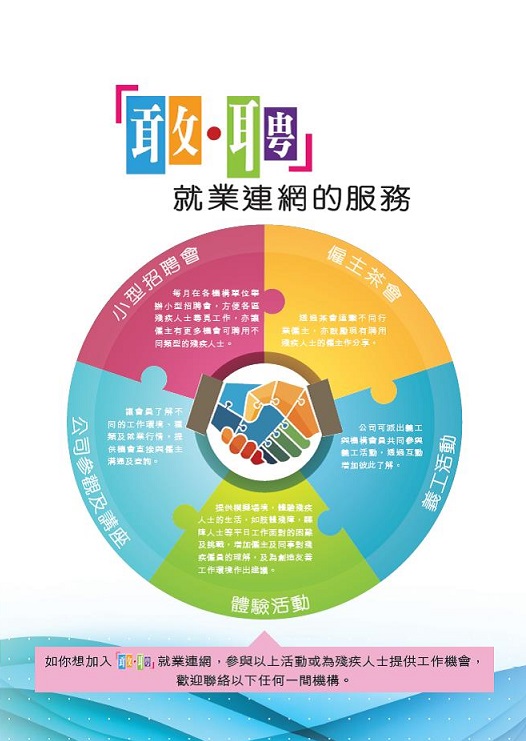 Some of the content are only available in either Chinese or English.
Small-scaled Career Fairs
Small-scaled career fairs will be held every month in various organisation units to facilitate the job seeking process of people with disabilities in various districts and offer opportunities for employers to hire people with different kinds of disabilities.
Employer Gatherings
Gatherings connect employers from various industries and encourage experience sharing from employers who hired people with disabilities.
Corporate Visits and Talks
Members will have better understanding towards different working environment, types and market updates and have direct communication with employers for enquiries.
Experiential Activities
Simulated scenarios will be provided for experiencing the difficulties and challenges faced by people with disabilities such as physical disability and hearing impairment. Therefore, both employers and colleagues are able to enhance their understanding. Recommendations for creating a friendly working environment will also be available.
Volunteer Activities
Social welfare organizations facilitate different volunteer activities for corporates and disabled members to join. Hence, participants can increase mutual understandings through interaction.
---
Contact and Enquiry
Tel: 3413 1561
Fax: 3413 1511

Address:
(Wan Chai Centre) 2/F, 36 Oi Kwan Road, Wan Chai
(Cheung Sha Wan Centre) 2/F, 323 Shun Ning Road, Cheung Sha Wan
(Kwai Tsing District) No. 7-14, G/F, Hang Chi House, Cheung Hang Estate, Tsing Yi
Opening Hours:
Monday – Friday:
9:00am – 1:00pm
2:00pm – 6:00pm