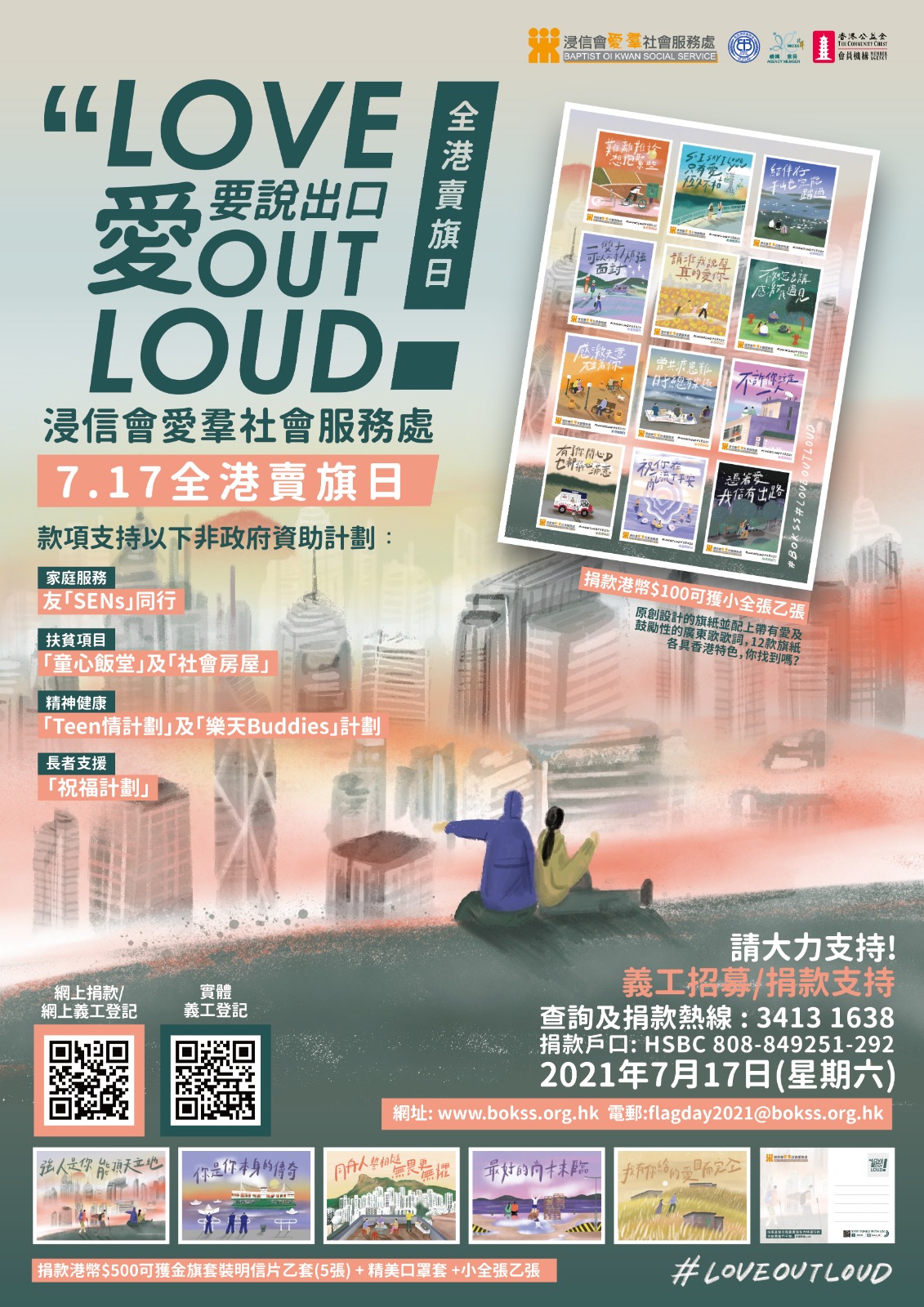 By God's Grace, Baptist Oi Kwan Social Service (BOKSS) Territory-wide Flag Day will be held on 17 July, 2021 (Saturday). Raising the target of $1.6million to support non-government funded projects including:
Walk along with SENs"
Children with Special Educational Needs (SEN) have always been labelled as problematic, and their parents are drowned by the pressure of parenting, the family could be seriously losing the normal operation and functioning and finally affect the development of the child. We will adapt the concept of positive psychology as our base of reference, let the parents use the new perspective to understand the behaviour of their children and also build up a positive family relationship.
"Hotmeal Service" and "Social Housing", Poverty Alleviation
Due to the pandemic, the unemployment rate increased rapidly, the grassroots are being affected. In respond to this social problem, Hotmeal Service and the single mother in the "Social Housing" project will increase the number of meals charged HK$10 per meal for the deprived families. Other than reliving their financial burden, we will provide training and employment services to them, equipping themselves during the adversity and prepare for the challenges in the future.
"Happy-go-Buddies" and "Teens Project" Children and youth Mental Health Project
"Happy-go-Buddies" and "Teens Project" are conducted by multidisciplinary professionals including Clinical Psychologists, Social Workers, Counsellors and Arts Therapists. We will provide talks, workshops, group activities related to mental health for students, also there are training for parents and teachers. We also aim at early identification and intervention of primary and secondary students who are facing emotional distress, hoping to raise our awareness about student's mental health and cultivate a healthy learning environment in Hong Kong.
"BLESSED PROJECT"
For every 100 elderly living in the community, there are 10 – 15 people suffering from depression. Meanwhile, facing the economic problems, family changes, and debilitating, the elderly will probably lack of a sense of security and feel valueless in the society. This is the reason why we provides community education and group activities with peer counsellor for the elderly, to promote physical and emotional health concerns, develop a positive attitude in life among elderly. This is aim to help them to maintain the connection with the society in both the spiritual and psychological aspects, in order to reduce the risk of depression.
---
Volunteer Recruiting
We are in need of 2,000 volunteers to be our Flag Sellers on 17 July 2021. You are cordially invited to join us and support those underprivileged people and families.